A Syrian artist Noor Bahjat on her European journey
"There is a big difference between the reality of Syrian and German citizens which is reflected in their artworks and that makes it hard for the German person to accept the toughness of Syrian contemporary art."
As part of the ongoing collaboration with the SAFIR Artist Program, Sputnik Partners has organized a European artistic journey for Noor Bahjat, to foster creative exchange and strengthen the Middle Eastern art community. SAFIR has been supporting Syrian artists since 2015, with the goal of improving the international representation of Middle Eastern Art and Artists.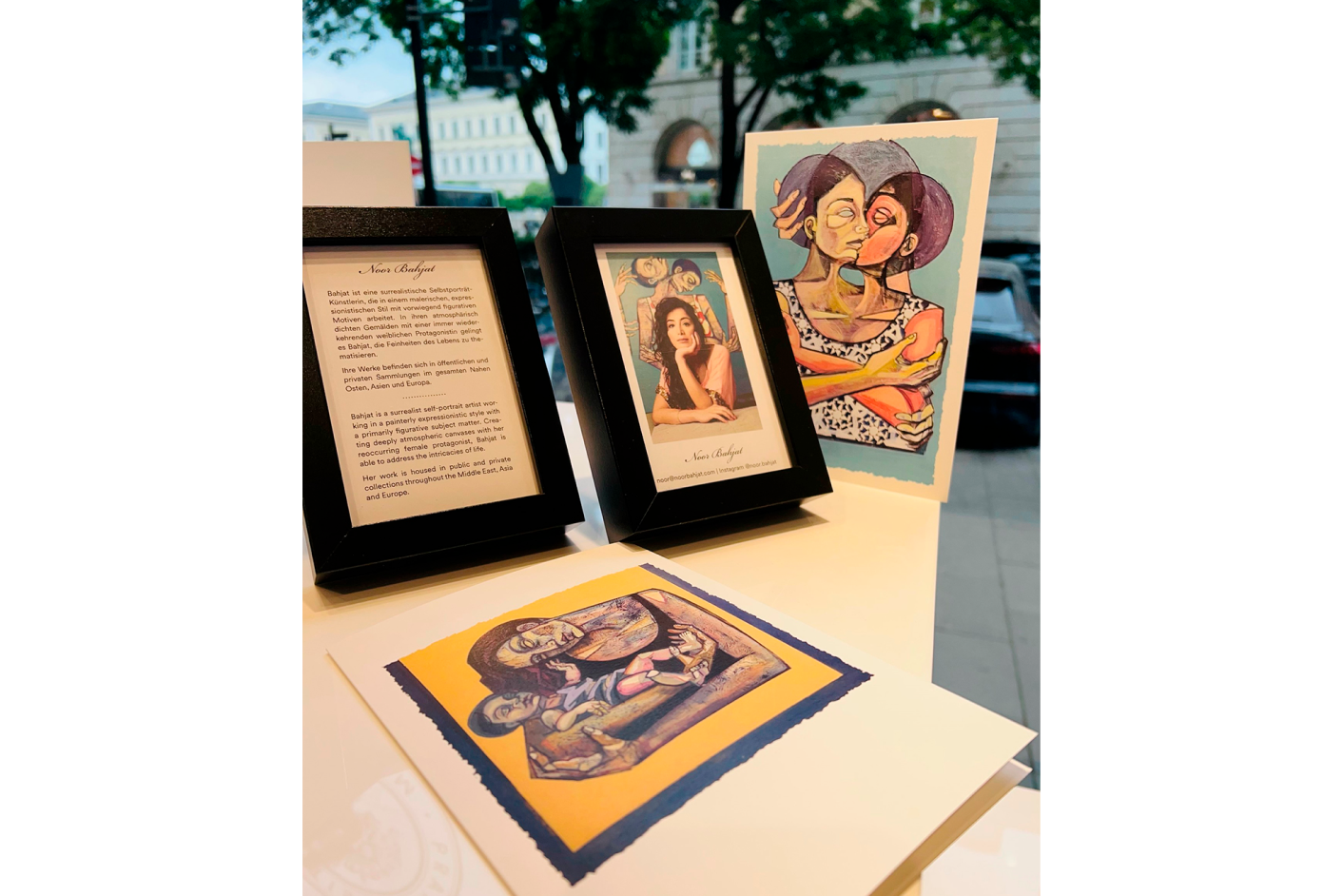 News-Noor-Bahjat-on-her-European-journey-2023-3
News-Noor-Bahjat-on-her-European-journey-2023-2
Bahjat, a surrealist self-portrait artist, born in Damascus, Syria, now lives and works in the United Arab Emirates. With her recurring female protagonist, Bahjat creates deeply atmospheric paintings that address the intricacies of life. Bahjat's palette and visual narrative drastically changed after visiting the Philippines in 2016, moving (away from dark and static compositions) to illuminated backgrounds with elements of nature and water. Through her still-life paintings, Bahjat displays densely filled imaginative narratives that depict a longing for a simpler existence. Her work is housed in public and private collections throughout the Middle East, Asia, and Europe.
Sputnik Partners caught up with the artist to discuss her experience of traveling to Europe and its impact on her artistic perspective and practice.
Were there any unexpected discoveries or moments of inspiration during your journey?
Living in Europe and adapting to a different lifestyle was full of unexpected details. I am so inspired and fascinated by the gothic architecture and the richness of it. I also got a chance to experience a different lifestyle and learn a lot about German culture. I was able to adjust to this and develop new approaches through my art as well.
How has your experience in Europe influenced your artistic perspective and practice?
Traveling and learning about new things have always been inspirational to me. Getting a closer look at the art scene in Europe definitely enhanced my artistic journey. During and after the trip. This visit had a big impact on me. It opened my eyes to a completely different perspective adjusting to a different lifestyle where each person has to plan time, transport, shopping, social meetings, house maintenance and catch-up with the sunlight which became an essential thing.
Have you discovered any new techniques or approaches? How do you envision their use in your future work?
Yes, I learned a lot of new techniques from meeting different artists. Starting with Marina (artist Marina Fedorova), who taught me composition and layering. I also learned new methods of printing from Tammam Azzam in Berlin to create a diverse surface on the canvas. It is certain that I will be able to take my work to a completely new level using those new techniques and bringing back lots of inspirations from my European visit.
Have you noticed any notable differences or similarities between the art scenes in Syria and Europe?
There is a big difference between the reality of Syrian and German citizens which is reflected in their artworks and that makes it hard for Germans to accept the toughness of Syrian contemporary art. On the other hand there is much in common between Syrian and German art, particularly when it comes to expressionism.
Unlike Dubai, things take more time and require patience in Europe. The most important thing I saw and keep reminding myself to do is to freely express myself through my art and go further every time I practice.
During your stay in Germany you collaborated with Prantl, the traditional Munich-based printing house. What are your impressions of it?
Yes, they proposed printing images from my paintings on cards and displaying them in the Prantl store. I was given complete freedom to select the artwork for the cards. It turned out to be an amazing result. I chose one of 4 paintings from the love series because most of us give cards to people we love. Some of the images might seem sad but true, — I believe I should remind myself and others to live for what really matters.
SOFI LITVINOVA | SPUTNIK PARTNERS